99% of people who live on planet earth don't realize how complicated and abstract the web of global systems are that ultimately deliver to them their clothes. Unless you're shopping at a small retailer or online brand that deals exclusively in fair trade, organic and/or vertically integrated manufacturing, that t-shirt has already seen more of the world than you're likely to throughout the course of your life.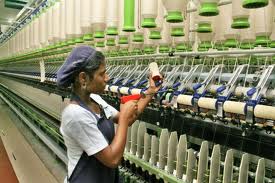 It starts with raw materials: natural ones like cotton/wool/hemp and chemical compounds for synthetics: polyesters, rayon, lycra, etc.
There's a whole lot of work that happens harvesting, cleaning and transporting the materials, but the next critical step is spinning. That's right, it's not magic, fibers still have to be spun into threads before fabrics, trim or anything more complicated than a single strand can be made. They must do a lot of delicate sorting work (sometimes automated, sometimes by hand) to keep the best fibers together and sort the other qualities. In America, these mills generally focus on American grown cotton or virgin (first life cycle) polyesters. In a place like India, the range is far greater and there's more nuance in sometimes being able to harvest unusual fibers in labor intensive (environmentally better) ways. Both American and Indian mills are struggling for survival and seem to be coming up with the same solution: vertically integrated manufacturing. Spinning mills have to buy from suppliers and then sell to other mills up the supply chain who create knit or woven fabric.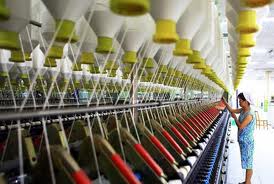 From the Economic Times of India:
A comparative analysis of the financial performance of standalone spinning companies pitted against vertically integrated (healthy mix of fabrics and garment) textile companies showed that net profit of vertically integrated companies has grown at a CAGR of 35%, while standalone spinning companies have a CAGR of 28% in their net profits in the last five years.

This shows that a concentrated focus on the higher end of the value chain of the textile business is a lucrative strategy even in times of a slowdown in the business.

Vardhman Textiles is a case in point. In the last three years, the contribution of the fabrics segment to its total revenues has grown at a CAGR of 35%, while its revenue from the yarn segment has grown at a CAGR of 20%. This shows that the company is expanding its capacity in the fabrics segment.

Going ahead, an increasing focus on fabrics and garments would help spinning companies retain their margins. Garmenting and fabrics segments by their very nature of business demand less capital compared to the pure spinning business.
But why this reversal trend in moving away from the segmentation of labor and skill? Doesn't everything work more efficiently if individual tasks are performed perfectly and in isolation to reduce complexity in order to perfect specific skills/process? Isn't the key large scale? It's funny to me that this reasonable, if completely outdated idea of economics and the human experience, is not yet completely debunked. Things relate to each other. One aspect informs another. Creativity happens when more than one thing is put next to another thing and the human mind synthesizes something new.
From the complete vertically manufactured American facilities that can do everything from spin yard, weave/knit fabric, dye/print, design/pattern, sample and manufacture large production runs (there are VERY, VERY few of these), to International companies like ZARA that limit manufacturing to the area between Spain-North Africa (so they can produce 'relatively' small runs and control inventory/quality without the large forecasting that happens when you manufacture something really far away, like Asia) to these small South Indian spinning mills beginning to produce their own fabrics. Scale is now more 'context' than 'process.'