I admit it: I love fashion, but I *really* love textiles. They are the things by which humanity can measure how much ass it's currently kicking. So imagine how excited I was to see this:
Tube-shaped solar cells could be woven into clothing
(via Physorg.com)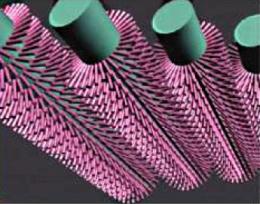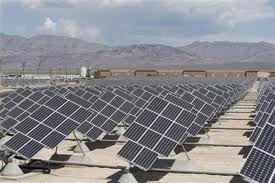 Remember how solar energy was supposed to save the planet and then it turned out it was bulky and expensive? Arguably it's because there wasn't enough investment earlier to develop faster into small affordable products, but now with nano technology looking into these problems, the potential solutions went from linear evolution to New Year's fireworks. After all, textiles are a fairly broad subject from architectural elements, to fashion, medical stuff and these really neat things called Geo-Textiles or geosynthetics, which are basically apparel for the planet.
Since I make apparel with performance features – like waterproof & breathable raincoats – I'm always interested to see how these technologies are being woven into fabric that does an astounding array of things from wicking sweat, anti-microbial, UV resistance, slash/bullet proof fabric, flame resistant fabric, self healing surfaces… all kinds of incredible technology we're already taking for granted. And it's only getting better at an even faster pace. Most of the really exciting textile technology is being developed at the molecular level, meaning that the steps between research and product are pretty hugely separate. But! Never has that process been more rapid and more defined at being destined for everyday use. But I digress.
Let's be honest, solar-powered clothing is rarely easy on the eyes. Nor does it tend to be discreet. Researchers from the Georgia Institute of Technology and Xiamen University, however, have developed a flexible, tube-like photovoltaic cell that could potentially be woven into fabric. By coating the surface of carbon fibers with titania-semiconducting nanorods, which appear like bristles on a nanoscale hairbrush, Wenxi Guo and his team have created a novel configuration that captures light from all directions. It's far from commercial production, of course, but the implications for the fashion industry are electrifying.

TOTALLY TUBULAR

Creating nanorod-covered carbon fibers is difficult and time-consuming because of the multiple steps involved. You have to convert titania foil into titanium-dioxide nanorods, for instance, and then arrange the nanorods uniformly along the carbon fibers. Guo and company devised a shortcut: growing the nanostructures directly on the fiber's surface before chemically "etching" them into bunched arrays. The process doesn't just require less elbow grease, but it also improves the energy-conversion efficiency of the solar cells—1.28 percent compared with 0.76 percent for the unbunched configuration.

Besides solar cells, this new method could be used to create photocatalysts and lithium-ion batteries. The structures could also be woven into paper and textiles, although their low efficiency admittedly limits their usefulness. Still, the research is in its salad days yet, which bodes well for future breakthroughs. "We may also plan to do some hybrid work to acquire different sources of energy based on this configuration," Guo says.