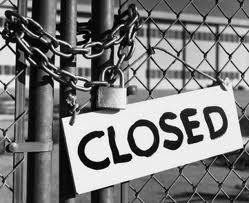 Though 2012 hasn't resulted in an apocalypse (yet) there are some pretty cataclysmic things happening in the world of fashion retail. In general it's the clash of two different trends: the rising cost of manufacture in China (hurting the industry's rush to produce ever cheaper goods at an ever increasing speed) and the growing dominance of internet retailers (hurting brick and mortar shops). Between five major retailers alone, Sears, Abercrombie & Fitch, the Gap, PacSun and all Espirit North America stores, nearly 600 stores are projected to close over the next three years. That's a lot of jobs, taxes and empty storefronts. For the consumer there seems to be a clear "next bridge" solution to keeping up with the demand for lots of cheap, pretty things: buying online with generous return policies, like Zappos.com.
But that's a path with more consequences than progress.
Beyond hurting local communities, economies and livelihoods, it delays what really needs to happen: things need to get more expensive and more local if we want to move towards sustainability on a human and environmental basis. That's not what anyone wants to hear. "Buy less and pay more!" sounds like a lot of people's worst nightmares. But on the other end of it, higher pricing means consumers will be demanding more from their purchases. Was it responsibly sourced and ethically produced? Will it still be a durable, beautiful addition to my wardrobe in a few years' time? It should be. The trick is not to buy more or produce more, but to so so more consciously. It's been my great pleasure in the last year+ to see major international companies begin to embrace sustainability, and almost universally this is being enacted because of a personal sense of duty, but after the fact justified by financial savings, such as reduced water costs.
"One example is Roger Yeh, President of Everest Textile Co Limited who has pioneered the Everest Sustainability Moel (ESM) that now guides the development of the business. Yeh admits that although a few customers approached Everest regarding environmental issues, it was not until he has a personal realization about the risks to his business and the planet of unsustainable industry, that the idea for ESM took hold." -EcoTextile News January 2012
Thankfully, there are a few things that should be kept in mind when moving ahead to a bold and positive future.
There are things that industry can do:
Create 2 tiers of wholesale: 1 for online retailers and another for brick and mortar to reflect operational costs. It's in everyone's best interest for women to be able to see your products in a beautiful space, try them on with the help of a great salesperson and come away with the joy of a purchase that pays local taxes.
Support certification and promotion of new technologies, fair trade and ecological innovations.
Retool the design and production standards to reflect values of sustainability and durability.
There are things that consumers can do:
Shop locally.
Ask about how something is made or where it comes from.
Pay attention and be strongly biased in favor of organics, innovation and fair trade.
Be willing to pay more and shop less for garments that will last.
Love what you buy.